Education Program
Frugal Innovation for Sustainable Global Development (FI4SGD)
Each year ICFI organizes a unique education program for third year bachelor students from Leiden University, TU Delft and Erasmus University Rotterdam - the minor Frugal Innovation for Sustainable Global Development (FI4SGD). In the program, participating students will have the opportunity to work with students from other universities and disciplines, allowing them to step outside of their monodisciplinary frame of reference.

This education program is set up and coordinated by the ICFI with is made possible in collaboration with the African Study Centre. Lectures from TBM, RSM, ISS and other knowledge partner institutes contribute expertise from their respective disciplines. The minor combines theory, practice and societal engagement. Apart from gaining theoretical knowledge during academic modules, students have the unique opportunity to do an internship in the Netherlands or abroad for a 12-week field work assignment.
What is frugal innovation?
Frugal innovation is about innovation processes that take account of and aim to overcome resource constraints in communities and societies.
Think of societies or communities where poverty prevails and/or settings of over exploitation of (natural) resources, which lead to environmental degradation and climate change. Frugal innovations aim to combine less use of (scarce) resources while maintaining and/or improving affordability, basic functionalities and an optimized performance.
Both academics and policy makers increasingly see frugal innovation as a promising way to overcome constraints in, for example, (access to) health, energy water, and food, by and for people worldwide. It could possibly contribute to global societal challenges and themes, for example sustainability, reduction of poverty and inclusion.
Frugal innovations can be found across the globe, ranging from (informal) urban and rural settlements and communities to industrial complexes.
Practicing frugal innovation
Multiple actors are involved, including national governments and international organizations, multinational enterprises, non-governmental organizations (NGOs), maker movements, and innovators at grassroots level.
In addition to academic modules in the minor, students will:
attend (guest) lectures from experts from the business community, government bodies and NGOs
participate in a 3 day pressure cooker, during which students will work on real-life cases
integrate technological, economic, sustainability and developmental perspectives
put their acquired expertise into practice during a field assignment (internship) in the Netherlands or abroad. During the 2018-2021 editions our students have gone to work on challening projects in Kenya, Uganda, Suriname, Malaysia, Ghana, Suriname, Curacao, Cambodia and The Netherlands. 
Internships & Field Work
How can frugal innovation contribute to sustainable global development?
By conducting group field work in a number of concrete cases, the students teams in this education program, reproduce and interpret knowledge about frugal innovation from a technological, entrepreneurial and developmental perspective. The teams apply these perspectives critically to a selection of action learning cases in the Netherlands and/or from different parts of the world and analyze and interpret the potential of frugality/frugal innovation in the pursuit of the UN Sustainable Development Goals in their field assignments.
Participants in our program will learn from other disciplines, and relate this knowledge to and integrate into their own disciplinary background, and from there, make a constructive contribution to the debate on frugal innovation and sustainable global development.
Read all about the 10 internships & field work of last year (2020-2021) in our e-zine: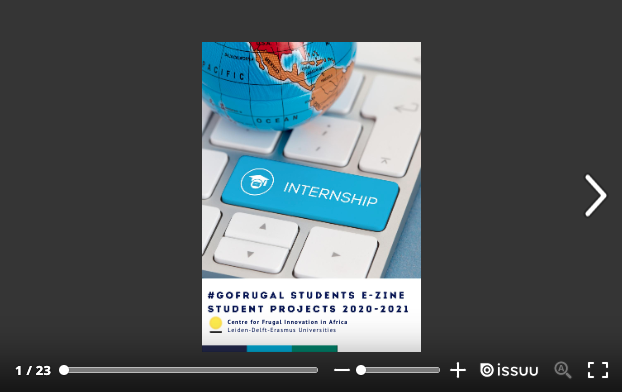 Student Experiences
What is it like to study Frugal Innovation in a multidisciplinary minor program? Read what our Alumni students from the Leiden, Delft, Erasmus universities have to say about their experiences