Approved to improve!
A new month, glad tidings for the Dandora Community following the approval of their ingenious project to develop a Multi-purpose Community Hall in one of the most space- and resource-constrained informal settlements in the heart of Nairobi's Eastlands. The project, inspired by the disproportionate impacts imposed by the COVID-19 pandemic on children and families in low income and marginalized informal settlements, has been approved by Stichting DAIDA and Wilde Ganzen Foundation, who after intense project assessment and consideration, have committed to co-fund the community project which is targeted to not only yield social productivity but economic prosperity and environmental sustainability as well.
  Every great thing starts with an idea", and Mustard Seeds in a productive partnership with  local and international partners is leading by example!
Innovation designed to Nurture and Empower
The project conceptualization for a Child-friendly Multifunctional Community Space for Learning and Social Cohesion in Dandora, Nairobi-Kenya has been a year+ collaborative process. At the onset of the COVID19 lockdown phase in Nairobi in March 2020, the Dandora Phase 2 community, together with Mustard Seed (a local Community Based Organization) initiated the idea to develop a complementary learning space to meet the developmental needs of school-going children at home. For an overcrowded suburb associated with crime and insecurity, school closure during this lockdown period accompanied with limited access to remote learning had rendered children vulnerable to psychological, intellectual, and behavioral ill-health. In a strategic collaboration with the Centre for Frugal Innovation in Africa, Kenya Hub (CFIA), Vital Cities Citizens (VCC) of the Erasmus university Rotterdam, and the  Institute of Housing and Urban Development Studies (IHS), the proposition was further developed into an innovation that not only offers for a wide range of enriching opportunities for the children but also that which brings communities together and fosters social ties by facilitating cultural, sports, social and educational activities for residents. This is aimed at stimulating informal social contact, creating strong social capital, and providing income generating activities for the youth.
  We're delighted that DAIDA and Wilde Ganzen have awarded us this grant which will capacitate us to develop a one-of-a-kind multipurpose facility that caters for the needs of the children, elderly, youth and all Dandora residents. This project will have ripple effects on safety, social cohesion, employment and livelihoods, health (physical and mental)…" says Charles Gachanga, the chairman and founder of Mustard Seeds CBO.
Impact: Creativity is Contagious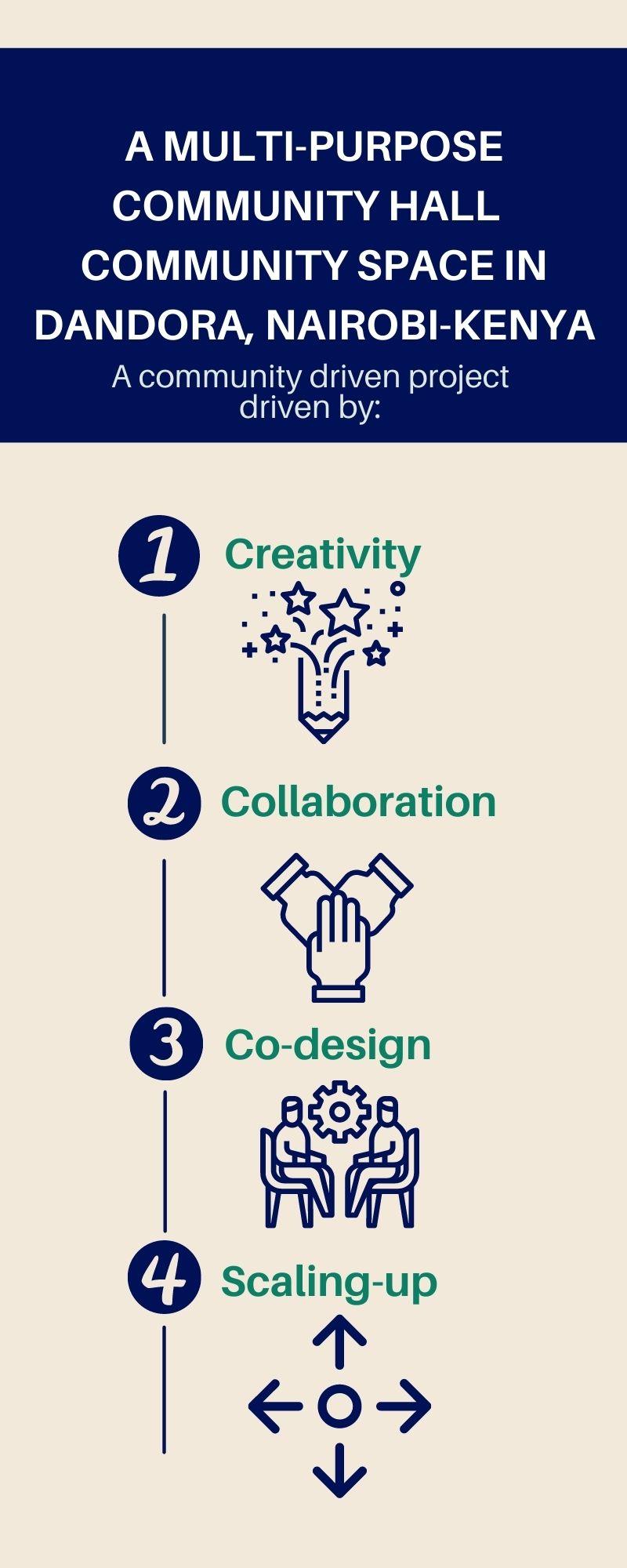 This move by the Mustard Seeds and the Dandora Community together with the project donors and other partners pioneers a new and creative approach to foster and sustain learning beyond the classroom (human capital), decent income generation, inclusion and social cohesion in resource-scarce contexts. Under the superintendence of Mustard Seeds, a CBO that has garnered experience in scaling up innovative and sustainable interventions in public spaces, the project targets a catalytic impact in Dandora and other settlements. This will initiate a culture of making constructive and contextually relevant use of the open spaces in settings where space and resources are not only limited but also emotive.
Impact: Participatory Action Research(PAR) on Frugal Innovations and Resilience under resource scarcity
This development project poses both questions and interesting insights on how local communities with a strong collective identity and a well-grounded belief in "doing more with less" are able to address complex urban challenges in the face of adversity and resource-constraints.
The project sets in motion an action research inspired by the frugal organizational arrangements and the perpetuated institutional legacy of grassroot organizations and their capacity to foster not just community but also organizational resilience. In this research titled "frugal networks and organizational resilience in resource-constrained settings" we evaluate how local organizations employ frugality in adaptive governance and how this facilitates self-assessment of resilience and enables them to better respond to crises.
From Idea to implementation
Implementation of the project commences this month (May 2021). It is expected that after ground-breaking, the proposed facility will be complete and operational within 4 weeks. The project will involve the children, youth, women, men and the elderly in different capacities as beneficiaries. The action research will however carry on beyond this period.
---
Explanation of the images from the project:
1) Hall is incapacitated to accomodate learning and social needs of children
2) Ongoing learning session in a dilapidated hall
3) Halls'Current Condition
4) Residents express their dire need for an accessible & safe public space