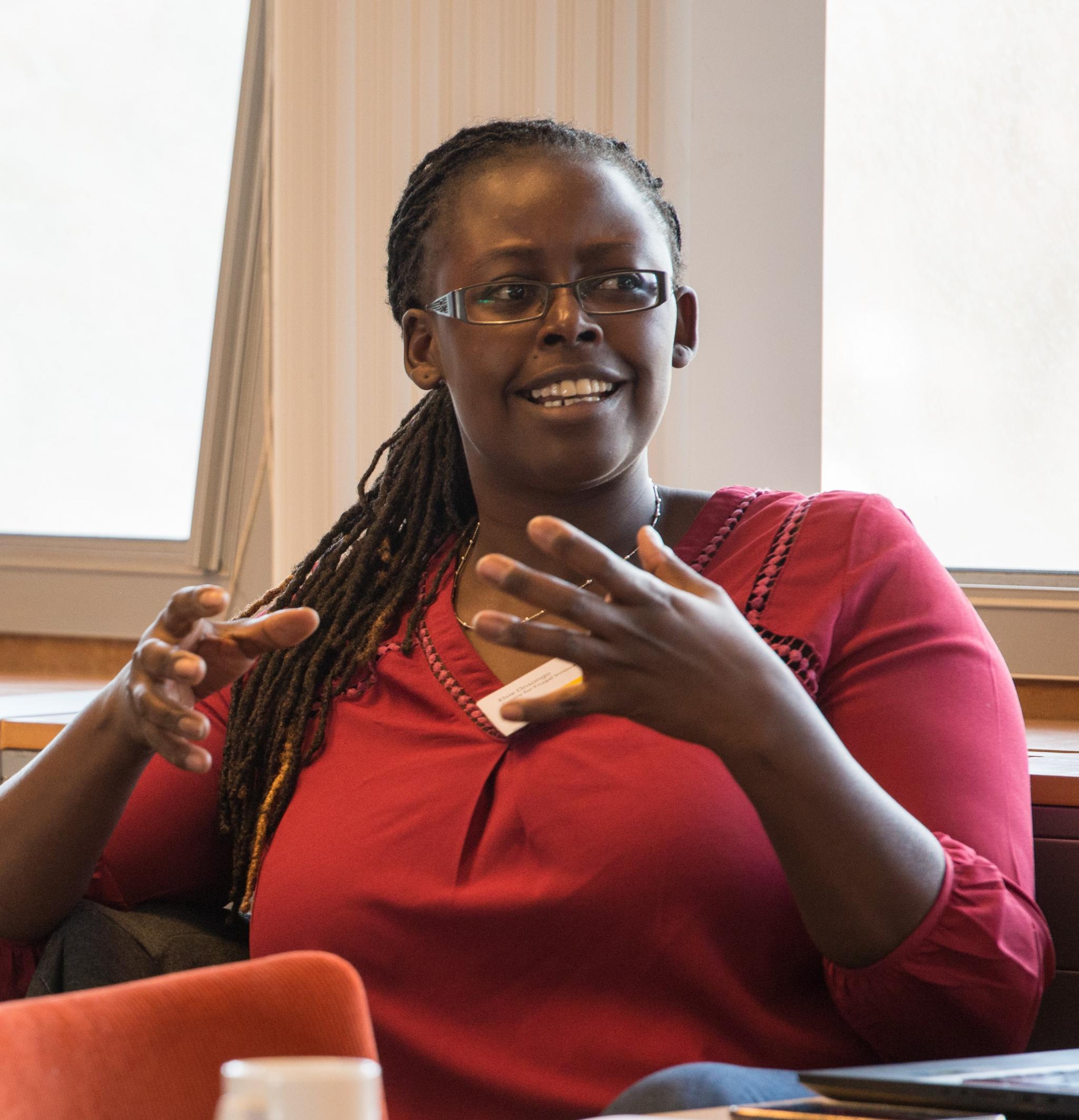 In March 2019 Dr. Elsie Onsongo has started, in collaboration with the CFIA, the Kenya Hub in Nairobi. In this article she introduces herself and shares her plans for the new hub.
Can you tell us a little about yourself?
My professional career began as a tutorial fellow in Strathmore University in Kenya where I was teaching undergraduate students subjects around information and communication technologies. While I enjoyed teaching, I quickly discovered my love for academic research while doing my masters thesis. I also liked analysing real life phenomena with a multidisciplinary approach, as even at that stage, I found a way to combine my background in information technology from my bachelors degree and finance from my postgraduate studies to investigate innovation in the banking sector. Thereafter, I was blessed to find an opportunity to pursue a PhD in a small city in central Germany named Jena. There again I conducted research on the now revolutionary financial services technological platform in Kenya named M-Pesa. I encountered the term "inclusive innovation" which endeared me to themes around 'innovation for inclusive development'. This is how I came to study frugal innovation during my postdoctoral fellowship at the Centre for Frugal Innovation in Africa in ISS.
Please tell us more about the Kenya Hub and its goals 
The CFIA Hub in Nairobi, Kenya is now in the process of establishing in Nairobi. Nairobi is a vibrant place for new technology development and entrepreneurship, and thus, it offers a great environment to analyse innovation processes and form partnerships for collaboration. The objective of the Kenya Hub is to do more locally embedded research on frugal and other related types of innovation for inclusive development. The outputs of this research should be relevant for theory, provide real life cases for teaching, and provide evidence for policy making. The Kenya Hub should also become an environment where early-career scholars of innovation in Kenya can access scientific resources, mentorship and exposure. In April 2019, I had the privilege of hosting Peter Knorringa and David Wubs-Mrozewicz in Nairobi, and we explored various opportunities for local partnerships with organisations such as the Kenya Climate Innovation Centre, the Kenya Community Development Fund, the African Centre for Technology Studies, Kenya Innovation Agency, and Dalberg Research. These meetings were fruitful as we have started to develop some initiatives together with these organisations.
What are you currently working on?
Part of setting up a research centre in a new setting is creating a governance structure, finding the most suitable office location, establishing local and international collaborations, fundraising for scientific projects, hiring local staff, and developing a short- and long-term strategy. These are the activities that are taking up the majority of my time. I must say that this is a new challenge in my career that I am enjoying very much.
How would you describe frugal innovation?
In simple terms, frugal innovation is any innovative endeavour that takes 'frugality' seriously. By frugality, I am referring to any efforts to find the simplest, most cost-effective way to create a functional and high-quality product or service while minimising waste and being environmentally conscious. In a setting such as mine in sub-Saharan Africa, that product or service should be accessible to the large segment of the population that are considered 'income poor'. The challenge for innovators, be they small and medium entrepreneurs, grassroots community groups, or large local and multinational corporations is to find the optimal balance between cost, quality, functionality and cultural relevance.
What (or who?) inspires you?
My biggest inspiration is my mother. Growing up, I watched her pulling herself up by the bootstraps for the sake of her children's education, and she taught me the value of hard work, self-reliance and optimism. In fact, my inspiration for studying frugality comes from her; she often chooses the frugal approach to life even when she has access to resources that would have inspired different, more conspicuous consumption choices.
In 5 years then….
I will still be doing research, and the Centre would have grown to influence developments in Science, Technology and Innovation in Kenya and the East African region.