In an ever-evolving world facing intersectional and complex challenges, the significance of international collaboration and the sharing of knowledge and ideas cannot be overstated. On Thursday 11th May, the prestigious Mauritshuis in The Hague welcomed a gathering of brilliant minds from all corners of the globe. Physically and virtually joined forces, civil servants, policymakers, and academics embarked on a captivating journey—a panel discussion exploring the transformative urban transitions unfolding in the Global South. 

Thursday's discussion served as a hybrid forum for intellectual exchange, cross-cultural collaboration, and a testament to the boundless potential of collaborative scholarship. This article reflects on key takeaways from the panel discussion and situates them within the areas of inclusivity, sustainability, and, of course, frugal innovation in shaping the future of cities in the Global South.
Thursday's panellists represented diverse backgrounds and expertise, each contributing towards a rich tapestry of ideas and insights, and a more holistic understanding of the topic. The panellists included: Dr. Roberto Rocco (TU Delft), Prof. Dr. Ibidun Adelekan (University of Ibadan), Beatrice Hati (PhD researcher from Nuvoni Centre for Innovation Research), Mandipa Ndlovu (PhD candidate at the African Studies Centre Leiden) and Prof. Dr. Shuaib Lwasa International Institute of Social Studies of Erasmus University Rotterdam (ISS-EUR).  In addition to opening the floor for contributions and questions from the audience around the world, the discussion was moderated by Dr. David Dodman, the Director General of the Institute for Housing and Urban Development Studies of Erasmus University Rotterdam (IHS-EUR). Dr. Dodman opened the floor with the question "Who needs to be involved in achieving conditions that are more just and more sustainable?".
---
Without justice we cannot have sustainability - Dr. Roberto Rocco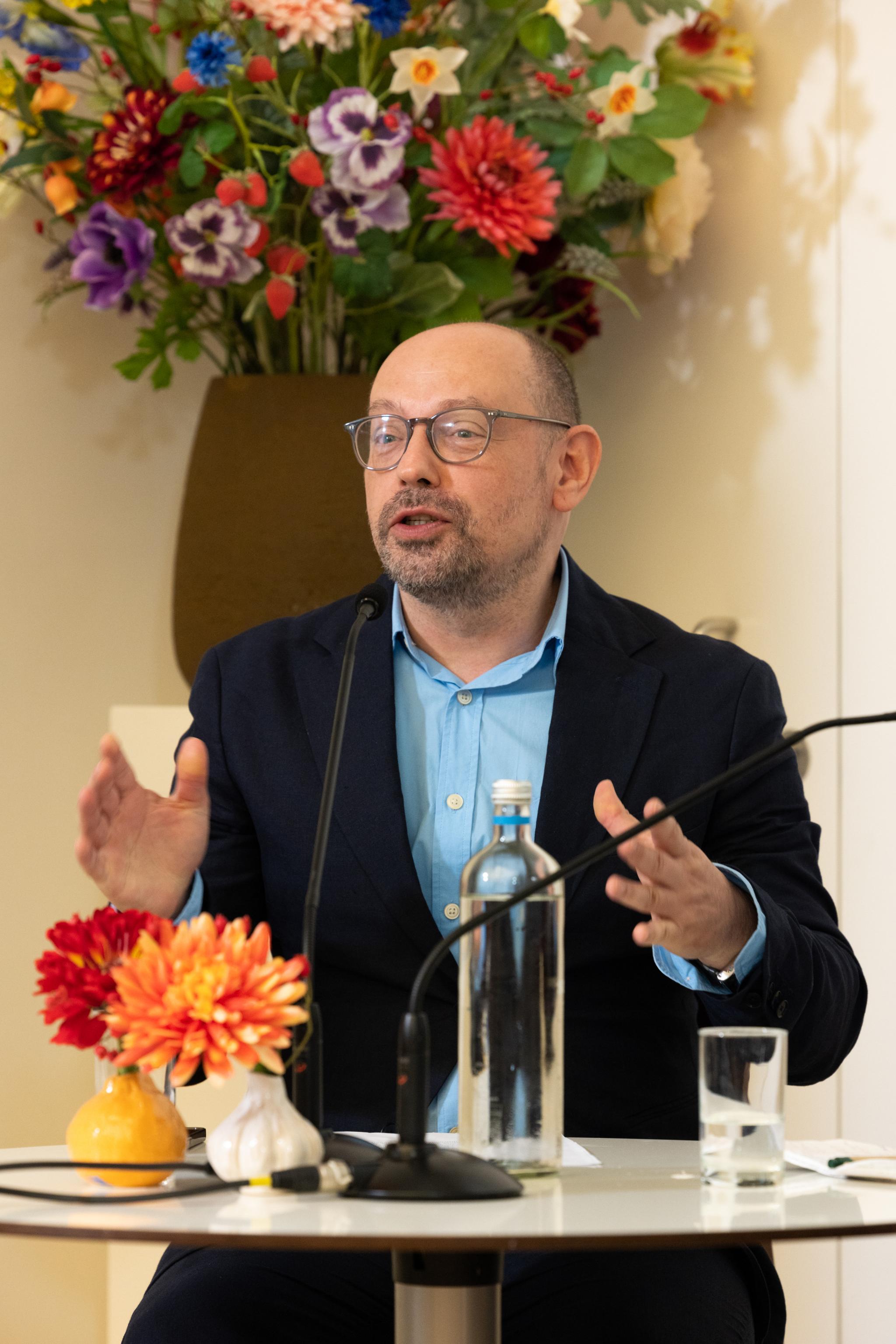 Kicking off the intellectual feast that ensued, Dr. Roberto Rocco's powerful proclamation echoed through the room: "Without justice, we cannot have sustainability." He shed light on the urgent need for a paradigm shift, away from a technocratic approach and towards a democratic and collective process. With conviction, he unveiled the harsh reality of environmental injustice faced by the Global South, bravely questioning the prevailing narratives around governance and corruption, while urging us to explore the intricate dynamics of capital transfer between the North and South. "The transition to sustainability is urgent, but will it be fair? For the transition to take place we need a paradigm shift away from technocratic approach towards a democratic and collective process" (18:39-18:55). He highlighted the broader issue of environmental injustice, specifically that the Global South withstands more climate-related risks and disasters without contributing to the origins of the climate crisis. Similarly, he pointed out the need to take seriously the impact of ongoing colonisation, specifically the imbalance between the transfer of capital between countries in the Global North and South as barriers for sustainable and just urban transition (1:27:00-1:27:20). 
Look Inwards - Prof. Dr. Ibidun O Adelekan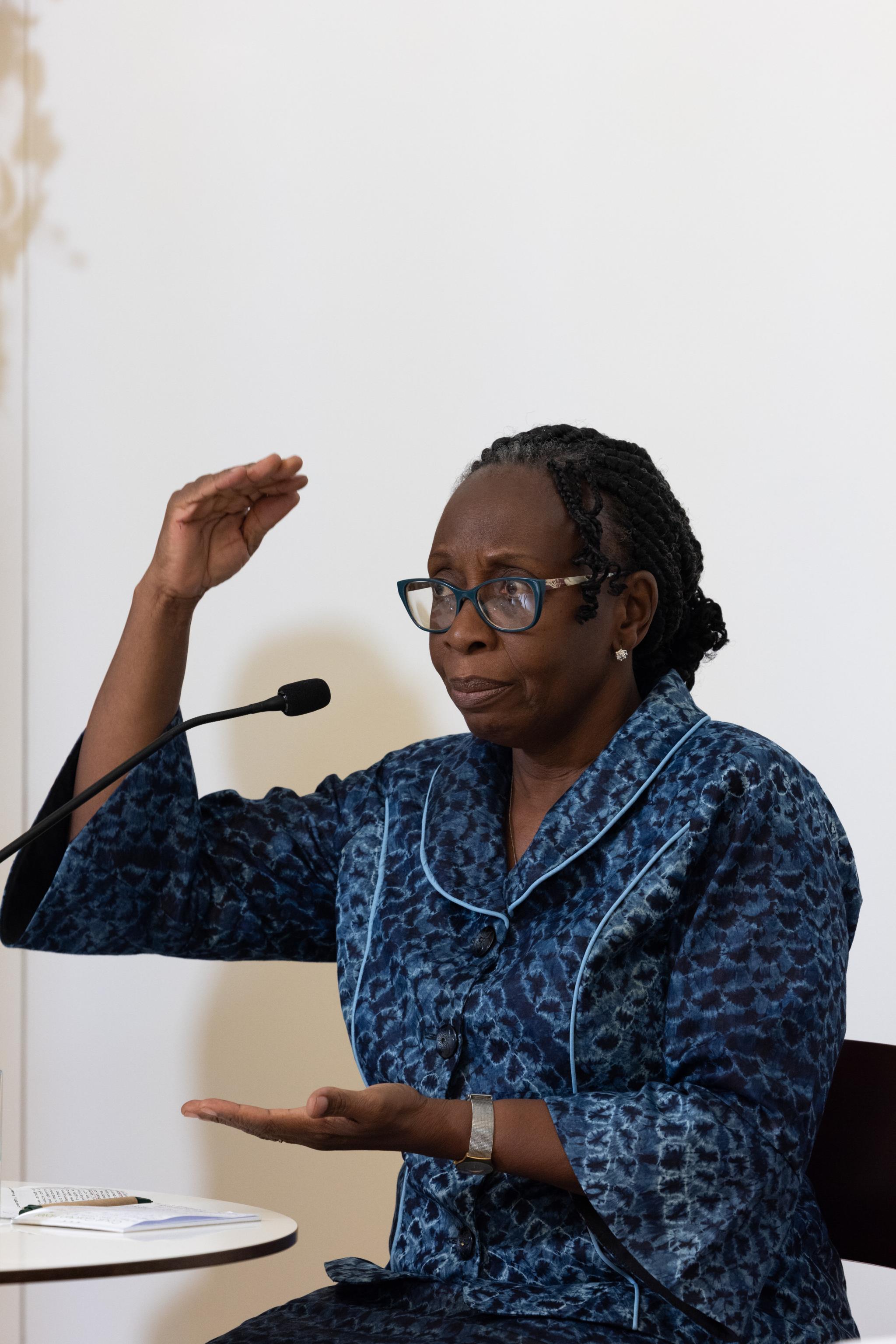 In her thought-provoking address, Professor Ibidun called attention to the imbalances in the flow of ideas, alongside the unequal patterns of ecological exchange between the Global North and South. Emphasizing that governments in the Global South should not merely catch up with international agendas but instead foster local solutions: "The urban form [in the Global South] is different... governments are looking out to the international agenda to try and catch up with what is happening elsewhere rather than looking inwards. Donor priorities set the agenda for governments, and the focus remains on intensive risks" (21:45-24:01). Her words painted a vivid picture of how everyday risks with significantly damaging cumulative effects are overlooked by externally-oriented development agendas. In line with this, Professor Ibidun brought forward the need for collaborative approaches and the involvement of local communities and actors in the private sector in addressing current and future issues considering the character and nature of urban sprawl in Sub-Saharan Africa. "Those in government tend to endorse the lessons learnt from the Global North which may not be what is needed in our environments. Our culture is different, our needs differ, and these all need to be taken into consideration" (27:12-27:48).
It is a basic right for communities to be engaged in matters that concern their lives - Beatrice Hati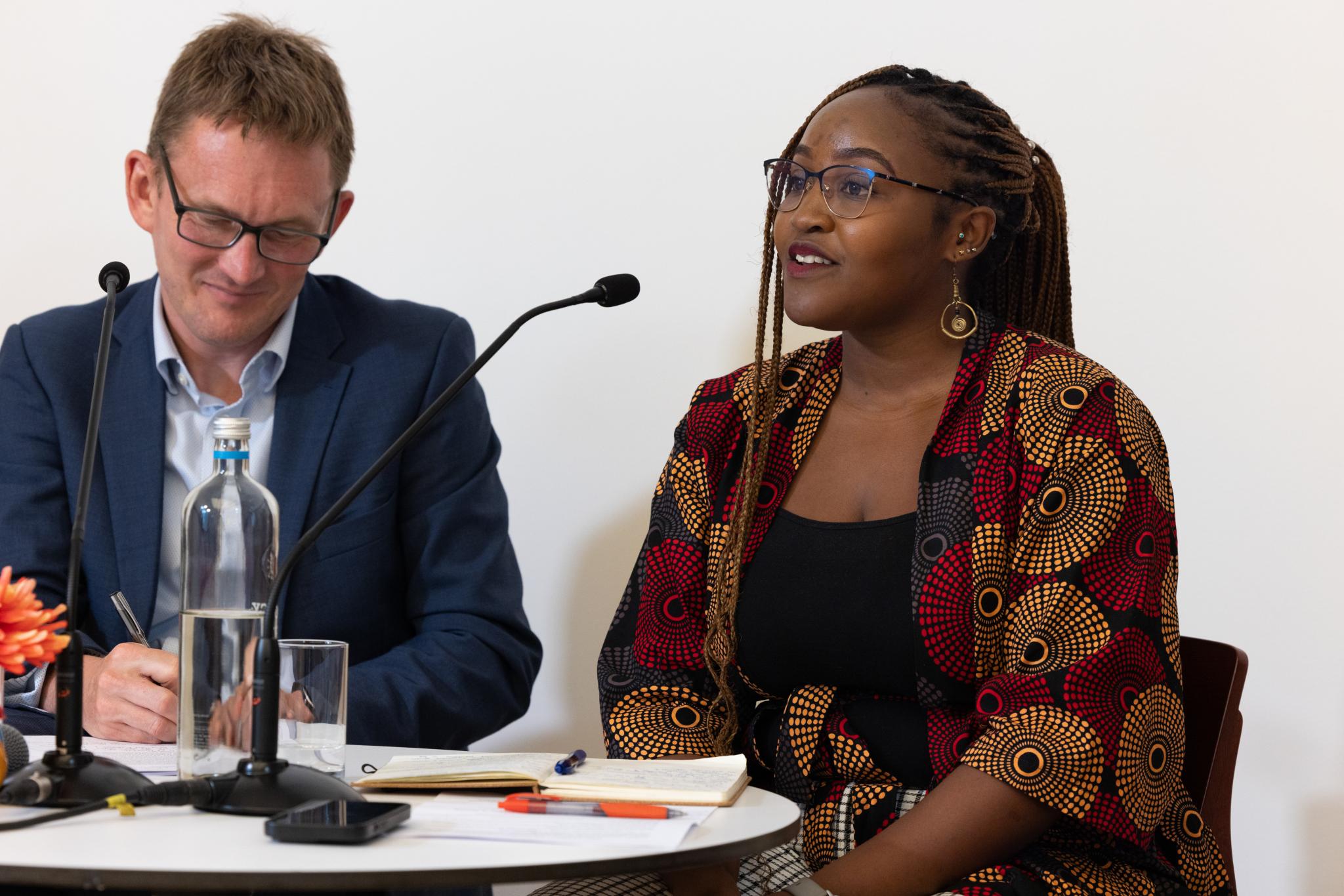 The role of culture, specifically indigenous and community driven innovation in shaping sustainable urban transition was further developed by scholar-activist Beatrice Hati. Her opening address focused on the problem of misfits, specifically rubberstamping, the misfit or community participation and the misfit of narratives. "There is a lot of indigenous innovations coming from local communities, but there is not attention going to these innovations, so this is one big misfit I see there." (30:15-31:15). In her rallying cry for inclusivity, she called for a transformative shift towards community partnerships, creating platforms that celebrate and nurture these invaluable innovations. "We need to shift towards community partnerships, that means there is a responsibility to communities and there is a platform for them to bring on their innovations and ideas" (32:20-33:20). Adding to her statements on the limitations of orthodox policies and practices, she also highlighted the role of discourse and framing in shaping realities: "We have to understand the heterogeneity within communities and give a chance for everyone to be heard and for the voices that may not be at the forefront to be considered." (1:01:09-1:01:25).
We really need to take seriously regimes of identity...through this we understand better exploitative hierarchies and oppression within current cities - Mandipa Bongiwe Ndlovu
Mandipa drew our attention to the deep-rooted influences of regimes, militarization, and clientelist politics in shaping urban spaces, structures, and realities in Africa. She too, discussed the relationship between identity and policy, putting forward the power of narratives in crafting the realities of transitions: "planning is important, but what systems of influence around urban development are we investing into proactively present resilience models that support a forecasted 698 million strong African people in urban populations by 2025" (41:01-41:19). She identified youth and civic society as key stakeholders in urban transition, and the significant role of funding and urban innovation hubs within the realm of frugal innovation- noting the detrimental effects of authoritarian and praetorian governance on these spaces. "When it comes to Africa, Africans themselves need to sit back and think about how justice and the charity of sustainability and growth starts at home" (42:50).
What is missing is the recognition of the opportunities in Africa that could be expanded - Prof. Dr. Shuaib Lwasa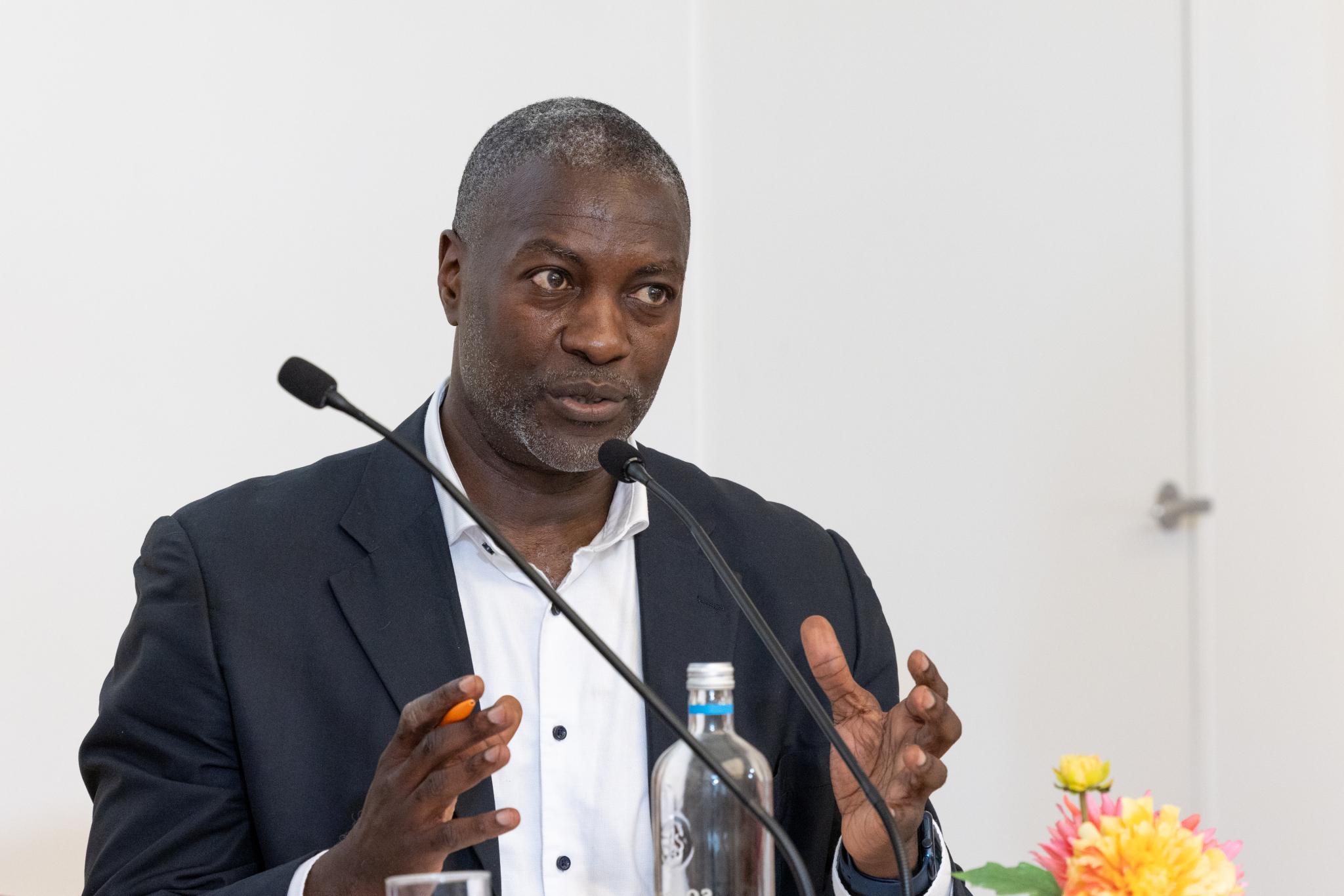 Professor Shuaib's opening remarks reminded the audience about the importance of seizing opportunities within Africa's vibrant urban landscapes, he emphasized the importance of frugality in a resource-constrained reality, as African nations often rely on their own ingenuity to tackle urban challenges. Professor Shuaib left us with a call to action—to use the resources at our disposal to make a difference, starting from tomorrow. Arguing that part of sustainable urban transition rests on: "redistributing the energy and effort in different ways, in academia, in policy, and practice, to begin looking at the positive, at the opportunities" (46:22-46:45). Professor Shuaib stressed the pressing need to bring "decency" to the majority of Africa's urban inhabitants that are still working in the informal sector and living in informal settlements, and the dilemma between regularisation and taking a more flexible approach to this challenge. "...what is available, what could be built upon, and what could address multiple problems, perhaps with minimal financing because we [Africa] are largely looking up to others to finance these basic requirements" (46:55-47:18). "It has to do with what each of us in our respective positions and responsibilities with whatever resources that we can get access to consider doing from tomorrow" (48:45).
---
To summarise and build on the insights from the panellists, the moderator, and the international audience, it can be said that the need for frugal innovation as part of sustainable urban transitions cannot be overstated. As African urban centres grapple with a rapidly growing population, limited resources, and the climate crisis it becomes clear that the path forward demands resourcefulness, affordability, and unwavering determination. Frugal innovation becomes the catalyst for cross-cultural collaboration, empowering individuals, and communities to shape their own destinies. It cultivates a culture of creativity, adaptability, and resilience, allowing people across the Global South to surmount obstacles and usher in a future of just and sustainable urban transitions. Following from the panel discussion, one thing becomes clear: the journey towards sustainable urban transitions is not solitary nor is it confined to specific regions, it is collective and universal. It is an invitation to join hands, share knowledge and pave the way for a future where cities in the Global South can shine as beacons of innovation.