How to deal with risks and ethical questions raised by development of new technologies?
There is no doubt that technological innovation is one of the key elements driving human progress. However, new technologies also raise ethical questions, have serious implications for society and the environment and pose new risks, often unknown and unknowable before the new technologies reach maturity. They may even lead to radical disruptions. Just think about robots, self-driving vehicles, medical engineering and the Internet of Things.
They are strongly dependent on social acceptance and cannot escape public debates of regulation and ethics. If we want to innovate, we have to do that responsibly. We need to reflect on –and include- our societal values in this process. 
Responsible Innovation
Together with our partners at TU Delft, we are looking for responsible innovation in multiple upcoming fields that demand urgent attention in this regard: nanotechnology, biotechnology, artificial intelligence, policy-making based on big data analytics, and so on.

Our goal then is to present an in-depth knowledge of what responsible innovation entails - an
ethical perspective to help shape socio-technical solutions for global and regional problems.
Responsible Innovation (abbreviated as RI henceforth) is a broad term that refers to the acts of analysis, reflection and public debate concerning the ethical principles and moral acceptability of new and emerging technologies.
Responsible innovation from MOOC to book
Over the past years CFIA participated in several activities regarding RI. Examples are the Module 'Frugal Innovations as Responsible Innovations' in the MOOC 'Responsible Innovation: Ethics, Safety and Technology' and the NWO-MVI research project 'Frugal Innovation and Responsible Innovations in Africa' .  
This year, March 2020, a new book named 'Responsible Innovation in Large Technological Systems' was published. The book investigates large technological systems, such as seaports, nuclear power stations, wind farms and natural gas extraction, which all provide vital functions for society. And yet these large technological systems have an impact on different stakeholder groups in both positive and negative ways.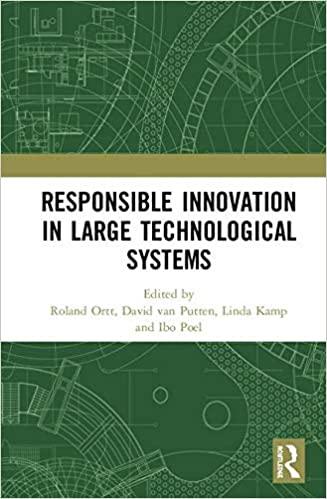 This new book defines responsible innovation and describes how both the innovation process and the resulting innovation outcome can be designed, created and implemented in a way that respects the various stakeholder groups involved and affected by the system. Taking a case-based approach, a number of large technological systems are profiled, including hydraulic engineering, nuclear energy, smart metering, and wind power. The values of each of the stakeholder groups, and the costs and benefits of the systems presented, are analysed. The book concludes by combining these insights to provide a framework for how responsible innovation of large technological systems can be implemented in practice.
 
Can frugal innovation be responsible innovations?
Chapter 6 of the book covers the question Can frugal innovation be responsible innovation? Written bij CFIA directors Cees van Beers, Peter Knorringa and Andre Leliveld.
 
Read the book 'Responsible Innovation in Large Technological Systems'


The book will be of particular interest to undergraduate and postgraduate students and researchers in technology and innovation management, and corporate governance, CSR and business ethics.

Reference:
Roland J. Ortt, David van Putten, Linda M. Kamp, Ibo van de Poel, eds. (2020). Responsible Innovation in Large Technological Systems. Oxon, UK: Routledge. ISBN: 9780367895815.

Table of Contents
1.     Introduction: Exploring responsible innovation of large technological systems in   
        society - J.R. Ortt, I.R. van de Poel, D.C. van Putten, L.M. Kamp
2.     Responsible innovation in the hydraulic engineering sector - P.H.A.J.M. van Gelder, N.
        Doorn, J.G. de Gijt
3.     Responsible innovation for smart metering: An illustrative case study - G. van de Kaa,
       P.M. Herder, A. Ligtvoet, Z. Lukszo
4.     Frames of reference and the interpretation of values in the Dutch shale gas debate
        - M. Dignum, U. Pesch, A.F. Correljé
5.     Responsible innovation of nuclear energy technologies: Social experiments,
        intergenerational justice, and emotions - B. Taebi, S. Roeser, I.R. van de Poel
6.     Can frugal innovations be responsible innovations? - C.P. van Beers, P. Knorringa,
        A.H.M. Leliveld
7.      How responsible was innovation in subsequent wind power episodes? - J.R. Ortt, L.M.
        Kamp, R.W. Kunneke
8.     Responsible port innovation in the Dutch delta: the Maasvlakte 2 port extension 
        project - W. Ravesteijn
9.     How do we judge the responsibility (or otherwise) of research and innovation?
       Capital, Aristotle, and the neglected factor: freedom - C.W.M. Naastepad, J.M. Mulder
10.  Conclusions: What is responsible innovation and how to do it? - J.R. Ortt, D.C. van
       Putten, L.M. Kamp, I.R. van de Poel