Urbanization in the 21st century: The role of entrepreneurship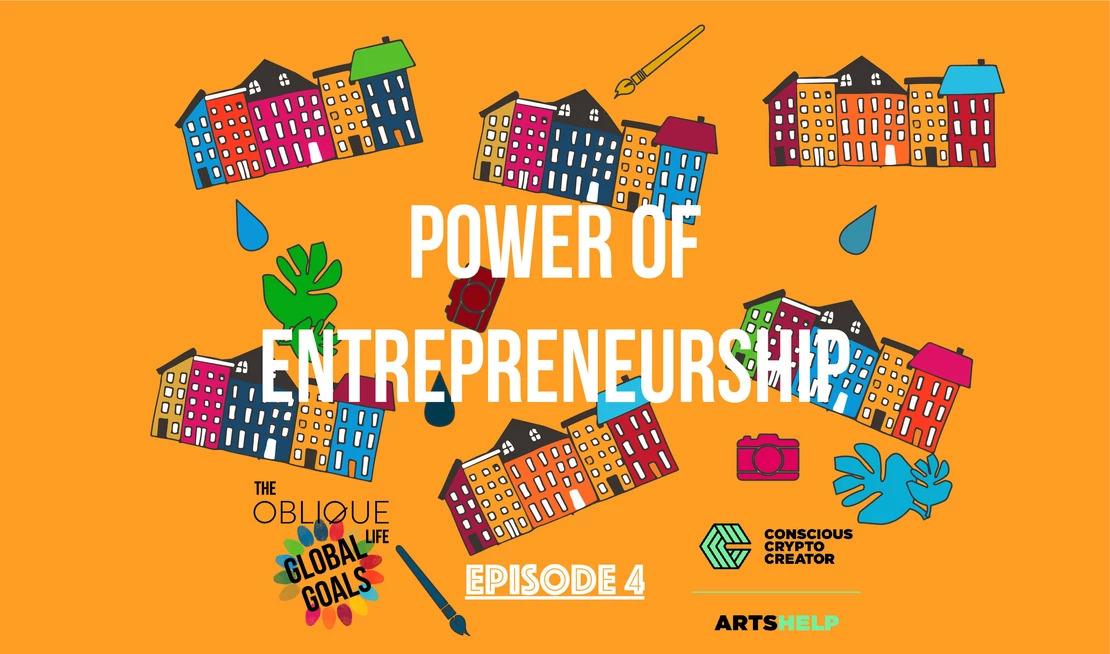 In this Oblique Life's Global Goals podcast episode discussing the Power of Entrepreneurship, our very own Beatrice Hati engaged with a panel of experts to speak on the role of entrepreneurship in creating solutions for interconnected global development challenges, and the role of policy in promoting and regulating innovation and experimentation. 
Entrepreneurship is what drives the world today. It seeks to develop new products, organizational structures and subsidies. 
Although used so liberally, entrepreneurship in essence is innovating economically viable solutions, but through practices which may be transactional or transformational. In today's world where things are changing exponentially, entrepreneurs have rightfully earned the moniker of "urban disruptors", where they challenge others in their ecosystem to either keep up with these changes or reinvent themselves accordingly. 
While innovation is popularly applied in the business world, it is not really ingrained in it. It can be applied to lifestyle hacks, organizational strategies, governance models, knowledge systems, etc. For example, the shift from physical working spaces to digital working spaces during COVID19 is an organizational innovation. Decentralization seeking to redistribute power and resources to the grassroots also is an innovation. 
Frugal Innovation 
Part of the podcast explored frugal innovation as an entrepreneurship model. Frugal innovation reduces complex and resource-intensive steps from a business model and innovation process, and creates products that are robust, more responsive to the users' needs, and affordable to Bottom of the Pyramid (BOP) markets. The frugal innovation practice is not just limited to Emerging Market Firms (EMFs) in the Majority World, but can also be applied in the Global North, often by Multinational corporation (MNCs) 
With limited financial, institutional, and corporate technology capacities in the Majority World, entrepreneurs are challenged to develop responsive solutions for the BOP market using minimal resources. 
As Beatrice highlights, entrepreneurship may offer pragmatic solutions to dynamic global changes and foster resilience in four ways: 
The future is interdisciplinary, entrepreneurs that urgently leverage emerging cross-sectoral opportunities are better positioned. 
Existing and established entrepreneurs adjusting their innovations to adapt to dynamic changes. 
Radical thinking and higher consciousness to evolving needs of customers 
Flexibility and adaptability of business models and systems to provide opportunity for reinvention. 
Social Entrepreneurship 
This involves marrying a social mission with an entrepreneurial mindset. It tries to mediate the profit-making agenda of the business model and incorporate it with the drive to achieve social welfare. Social enterprise could be frugal or unfrugal i.e., in Nairobi's informal settlements, safe access to energy is a grave challenge. Responses have been in two ways: 
Business models of power cartels providing energy in small portions (Kadogo Economy) – tapping energy from the main source and distributing it to households, but the cumulative price is very high (poverty penalty) making transactional and non-frugal. 
Community biocentres, which transform waste to generate energy and create a forum where people can meet, thus frugal innovation. 
Better Ecosystems for entrepreneurs 
Start-up incubators and accelerators serve to mitigate the risks and challenges on an entrepreneurial journey to success. Incubators typically nurture potentially disruptive entrepreneurial ideas with the hope of developing them into viable business models. They also offer shared space and a co-working environment. Accelerators focus on scaling a business while incubators are more focused on innovation. 
Comparative reflection on role of policies on entrepreneurship 
Policy frameworks provide a base for entrepreneurship, controlling and attempting to promote entrepreneurship/innovation landscapes. In Kenya, some constructive policy and legal frameworks exist. However, existence of legal frameworks alone cannot drive change. Change will only be steered through implementation of said policies. There is lack of knowledge from the innovators about the existence of the various policies. 
Policy and legal frameworks alone cannot make a difference.  What matters is how they're implemented 
In the Global North, policies support enterprise development and provide structure for funding to support the innovation system. There is however no quality control on how the money is spent. 
State and regional policies are critical to support (frugal) innovation practices and create a friendly environment for a wide range of risk-takers. However, what should innovators do if they are ahead of the policy game? 
Go for it! Time waits for no government. Start, and the process of policy formulation follows as you develop new standards and processes. 
What is needed? 
The rapid shifts in (global) business environments demand adaptive policies that support productive entrepreneurship, especially for young firms and start-ups, the self-employed, as well as the women-led or minority-owned businesses. Where policy and legal frameworks are non-existent or ineffective, innovators have to be radical and align their models with policy design. 
In Kenya, there's evident gaps in policy formulation for (radical) innovations. However, innovators have to be resourceful and ingenious in looking for solutions. 
Where and how philanthropists invest their money 
Donors are focusing on entrepreneurial solutions that have potential to contribute to more sustainable resilient cities. There is an affinity for projects that aim to improve lives of the people living in cities i.e., water, transport and waste management. COVID will continue to have a huge impact in private philanthropic funding. 
Organizations doing bottom-up approach have power to decide on recipients of funds. This approach also gives locals the powers to locate funds. More government support is however required through supportive policies and diverse federal programs. 
Entrepreneurship and innovation hold great value for constructive resilient and regenerative cities. However, partnerships with more companies and actors that have better technology and wide range of resources are critical in order to co-create hybrid robust solutions. 
On Equity & Inclusivity: 
In conclusion, the panel unanimously agreed that the main urban problems to be solved by entrepreneurs between now and 2030 is: 
Resource scarcity 
Personal consumption and waste (question for circularity) 
Overcrowding