Who says that innovation has to be complex and expensive? More is not always better! With frugal innovation you can innovate in a simple, smart and affordable way while increasing the end value for your customers.
 
Do you want to learn how? If you are an entrepreneur in the horticulture sector (i.e. ''tuinbouw''), based in South Holland and have 50 FTEs max, you can join our new programme (in Dutch) 'Slim innoveren' by signing up here before 18 May.
 
The programme is organised by CFIA - LDE Centre for Frugal Innovation in Africa and the Erasmus Centre for Entrepreneurship in cooperation with HortiHeroes and Provincie Zuid-Holland and completely free of charge. There is only space for 15 entrepreneurs: the best applicants will be chosen based on their profile and motivation.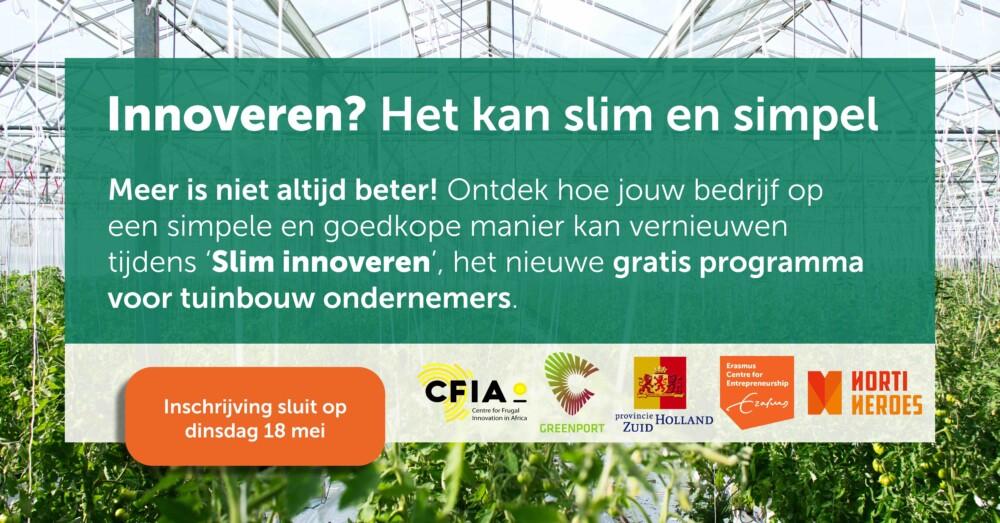 The program
In this program you will work on a real case from your own company under the guidance of Dr. Ferdinand Jaspers (Erasmus Center for Entrepreneurship), Prof. Dr. Peter Knorringa (Erasmus University Rotterdam and CFIA) and Albert Kraaij (CFIA and Haagse Hogeschool).
Why smart & frugal innovation?
Innovation is essential in order to keep up with the current market. Innovation is often seen as expensive and complicated, but frugal innovation shows that this does not have to be the case.
Smart innovation can open new markets for Dutch entrepreneurs in developing countries, among others. There is a great need for a middle segment between the high-quality high-tech products (from the Netherlands, for example) and the cheaper versions (from China, for example).
Can your company fill this gap?
Take the iPhone, for example. On average, only 20% of the total functionalities are used. If you looked at this "Frugal",  Apple would release a new model with just 20% of the most used functionalities. With lower production costs and a lower price for the customer! "
Prof. Dr. Peter Knorringa.
The learning goals
In this short and effective program we zoom in on the following questions:
How do you innovate in a smart, simple and concrete way?
How do you apply this way of thinking in your own company? And how do you proceed with its implementation?
How do you adapt a product so that it is less complex, profitable and still attractive to your customers?
How do you make your company simpler, for example by means of shorter chains? Or sustainable processes / resources?
For whom?
This program has been specially developed for entrepreneurs or directors of SMEs in the horticultural sector from South Holland with up to 50 FTE.  The ambition to grow and innovate in a concrete and simple way is of course a must!
Program information
The program consists of four contact moments:
May 26 | 2 - 9 pm
June 9 | 4 - 8 pm
June 23 | 4 - 8 pm
July 7 | 4 - 8 pm
Location: Erasmus Center for Entrepreneurship, Marconistraat 16, 3029 AK Rotterdam.
* The training takes place online / hybrid in case a physical training is not yet possible due to the corona measures.
Sign Up
This program is sponsored from the Province of South Holland and is therefore completely free for participants. The best applications are selected based on your profile and motivation. There is room for only 15 entrepreneurs.
So register quickly, registration closes on May 18, 2021!
For more information or questions, mail to: fuligni@ece.nl