This round table session examines various policy perspectives on frugal innovation, bringing together panelists from different stakeholder groups. Now that frugal innovation is starting to become recognized by donor agencies, NGOs and social entrepreneurs as a potentially useful vehicle to stimulate progressive change, social justice and local development, this panel will offer a fist opportunity for various stakeholder representatives to share their emerging views on the intervention logics around frugal innovation. Set-up of the round table is an open discussion among the panelists and the audience, facilitated by Greetje Schouten and Peter Knorringa.
 
Panelists:
Dr.-Ing. Wolfgang Wittke, Advisor to the Eureka Head of Secretariat - Eureka
Bart Jeroen Bierens, Project coordinator for Circular Manufacturing Programme (UPCM) - Netherlands Enterprise Agency (RVO)
Wijnand van Smaalen, Senior strategist Economy - Province of Zuid-Holland
Dr. Saskia Vossenberg, Lead Gender - Migration and Remittances - United Nations Capital Development Fund (UNCDF)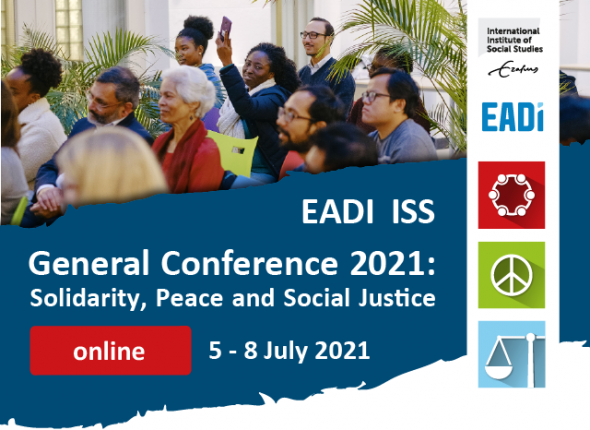 This seed panel is part of the The European Association of Development Research and Training Institutes (EADI) conference 2021, hosted by the EADI Working Group: Frugal Innovation and Development and convened by Peter Knorringa and Greetje Schouten.

The central theme of the EADI conference is 'Solidarity, Peace and Social Justice'. Together, these three concepts represent the organization's aspirations for approaches to global development that address inequality, poverty and political marginalization, also in connection with climate change and other environmental threats. 
Solidarity is essential for any process of social change. Based on mutually shared interests and human values, solidarity can be extremely powerful yet can also be easily undermined in an era of fake news and (electronically) manipulated elections. Peace and social justice are similarly important values in (as well as aspired outcomes of) struggles or transformation processes in which solidarity is key.
The conference will be hosted by the International Institute of Social Studies (ISS), one of Europe's oldest and largest centres for research and education in the field of development studies. It will be combined with the Development Dialogue, the annual European conference of PhD candidates working in development studies.

Register here for the conference