Location
Ede, Mauritskazerne Nieuwe Kazernelaan 2 D42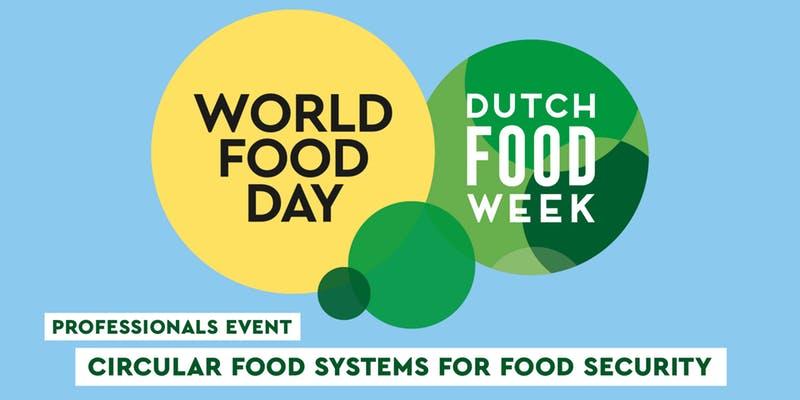 World Food Day 2019 - Circular Food Systems for Food Security
The number one international event for agrifood professionals
World Food Day 2019 is the closing event of Dutch Food Week and in the morning program the Netherlands Food Partnership will be launched festively. The organization and CFIA's Agro-Food domain program developer Greetje Schouten hope to welcome you to join forces with high-level professionals from government, business, science and civil society across nations, sectors and professions. Together, we have the collective power to end hunger and malnutrition and build a resilient food system for everyone.
Register now to work together towards a #zerohunger 2030!
MORNING PROGRAM: 09.00 - 12.30 - KEYNOTE SPEAKERS
The day will be moderated by television and radio presenter Diana Matroos.
Carola Schouten • Opening • Minister of Agriculture, Nature and Food Quality
Sean de Cleene • Keynote speaker • Head of Food System Initiative and Member of the Executive Committee at the World Economic Forum
Wiebe Draijer • Keynote speaker • CEO of Rabobank
Selassie Atadika • Interview • Plant forward Ghanaian chef
AFTERNOON PROGRAM: 14.00 - 16.00 Seven Circular Sessions
What is going on around the world in terms of circular economy for food security? During the the Circular Sessions we showcase circular solutions from all around the globe. You can only attend one of the seven circular sessions. At registration you get to pick one case of your choice.
Circular Sessions on Circular Food Systems
Food Losses: How reducing food loss in developing countries is essential to end hunger and malnutrition.
The Land: How retaining and restoring natural capital and making changes in our agricultural methods and practices are needed to transition to a circular food system.
Water: How circular economy principles could play an important role in the supply of fresh water and fish.
Technology: How technology plays an important role in finding circular and sustainable solutions to malnutrition.
The City: How cities influence the way food is grown and are key in ensuring food security.
The Plate: How making dietary shifts can be a viable strategy to provide healthy and sustainable food for all.
Trade: How global agricultural trade plays a critical role in food security.