On Friday the 10th of July an interesting mini symposium on 'the Role of Design in Global Health' was organised by the Faculty of Industrial Design Engineering and Delft Global Initiative. A selection of experts from academics and the field gathered to present their ideas on the importance of human centred design and the emergence of standards in global health in order to provide high quality medicine all over the world. This event was closely connected to the PhD Defense of Ana Laura Santos earlier that day titled "Mind the gap, Designing Sustainable Healthcare for Humanitarian Aid".
Prof Anthony Redmond kicked-off the event with an interesting talk on correct 'Surgical response to International Disaster'. Based on real examples of disasters from Armenia (1988 earthquake) and Haiti (2010 earthquake) Prof Redmond explained that the useful effect and efficiency of non-national aid in the shape of 'Search and Rescue Teams' should be carefully considered seeing that 90% of post-disaster survivors are rescued by bystanders. Beyond that percentage national Search and Rescue Teams may find additional survivors and only a very small percentage is found and rescued by non-national teams that are flown in.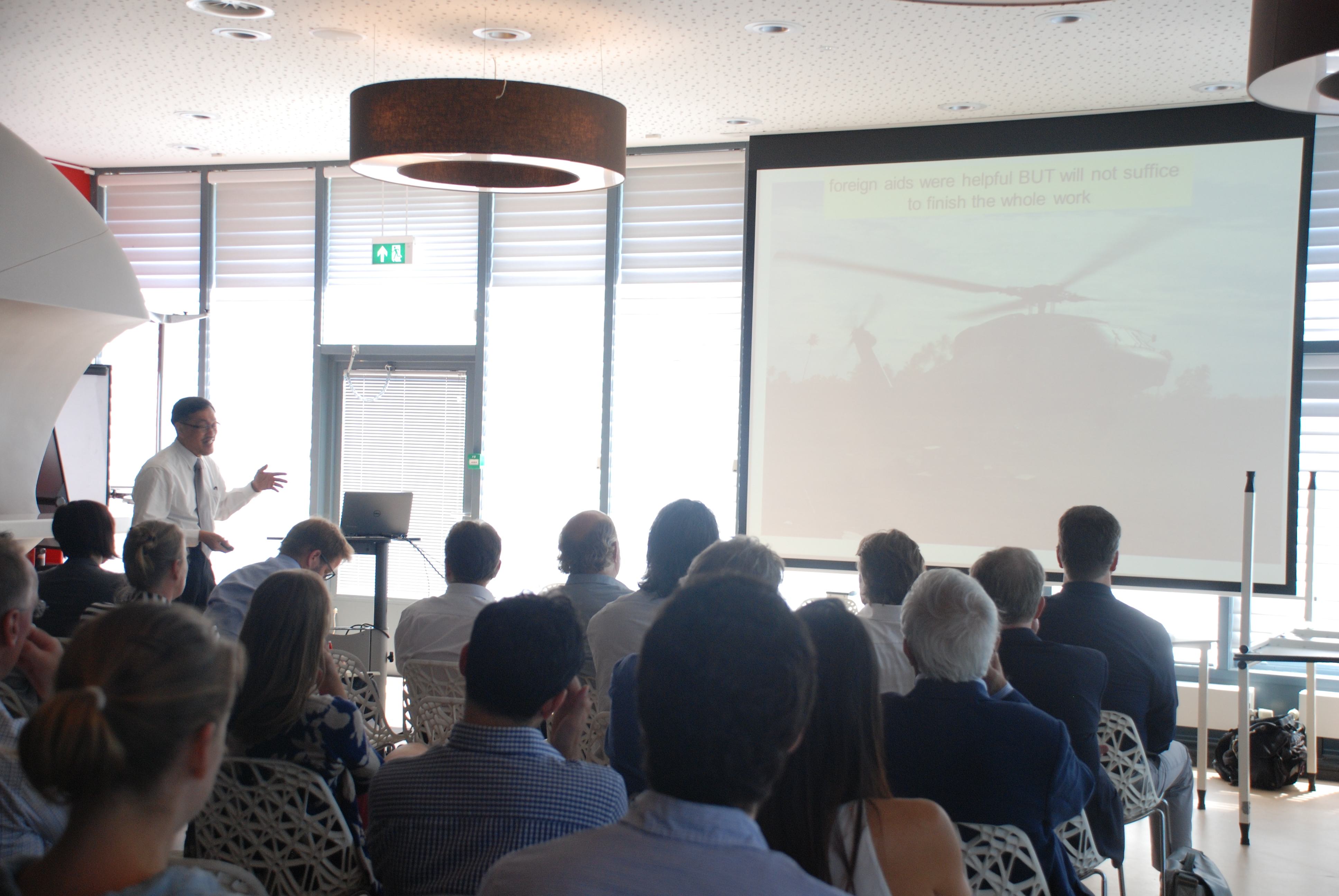 Whereas non-national Search and Rescue (SaR) Teams might be not much of a help, medical teams from developed countries are with a cost-efficiency that is a hundred times higher than the figure for SaR teams. Nevertheless, even with such a high cost-efficiency the aid that is offered by medical teams is not without flaws. A significant number of teams fly in without having formal consent to practice medicine, which, even in emergency situations is needed to guarantee the necessary quality. Herein the device "Normal Medicine, Normal Standards, Abnormal Situation" should be practised according to Prof Redmond.
Both worlds have to cooperate
After this insight in post-disaster aid from a surgical perspective Prof Eddy Rahardjo, anaesthesiologist from Indonesia, presented some problems that frequently occur in post-disaster aid deliveries. He described examples of big, well equipped, field hospitals provided by the international community after the 2004 tsunami which were hardly used as they were very inaccessible for the majority of victims. The Indonesian government therefore replied with the founding of a number of regional crisis centres that are well spread across the country to provide the necessary reach, also in rural areas.
Also with regard to the delivery of supplies (drugs and medical equipment) Prof Rahardjo emphasized the importance of accordance with local standards, habit and knowledge. Sending for example drugs and medical equipment with only a Japanese or Spanish manual for use is not very helpful for a rural Indonesian hospital manned by local staff. Rahardjo mentioned three important factors in foreign aid deliveries of drugs, equipment and procedures. They should be 1) locally understood, 2) used properly and 3) able to be well maintained.
Herein a remark which was made earlier by Prof Redmond illustrates the situation well as he mentioned that "often there's a differentiation between what developed countries have and want to give and the products or services that disaster stricken countries need". Prof Rahardjo also closed his talk in this line by saying that "both worlds have to cooperate if we want to structure aid and make it really useful".
Safe and AFordable Equipment (SAFE)
Prof. Jenny Dankelman then introduced her research into safe and affordable equipment to us. As 2 billion people don't have access to basic surgery this is much needed research which aims to develop new and affordable designs for existing surgical procedures. Dankelman for example presented small and very flexible medical tools made entirely out of springs and wire that facilitate rather straight forward and simple procedures to operate on for example cataracts.
An important notion that she made herein is that you don't always need surgeons to provide basic surgery to the BoP as this can very well be done by well trained and dedicated nurses.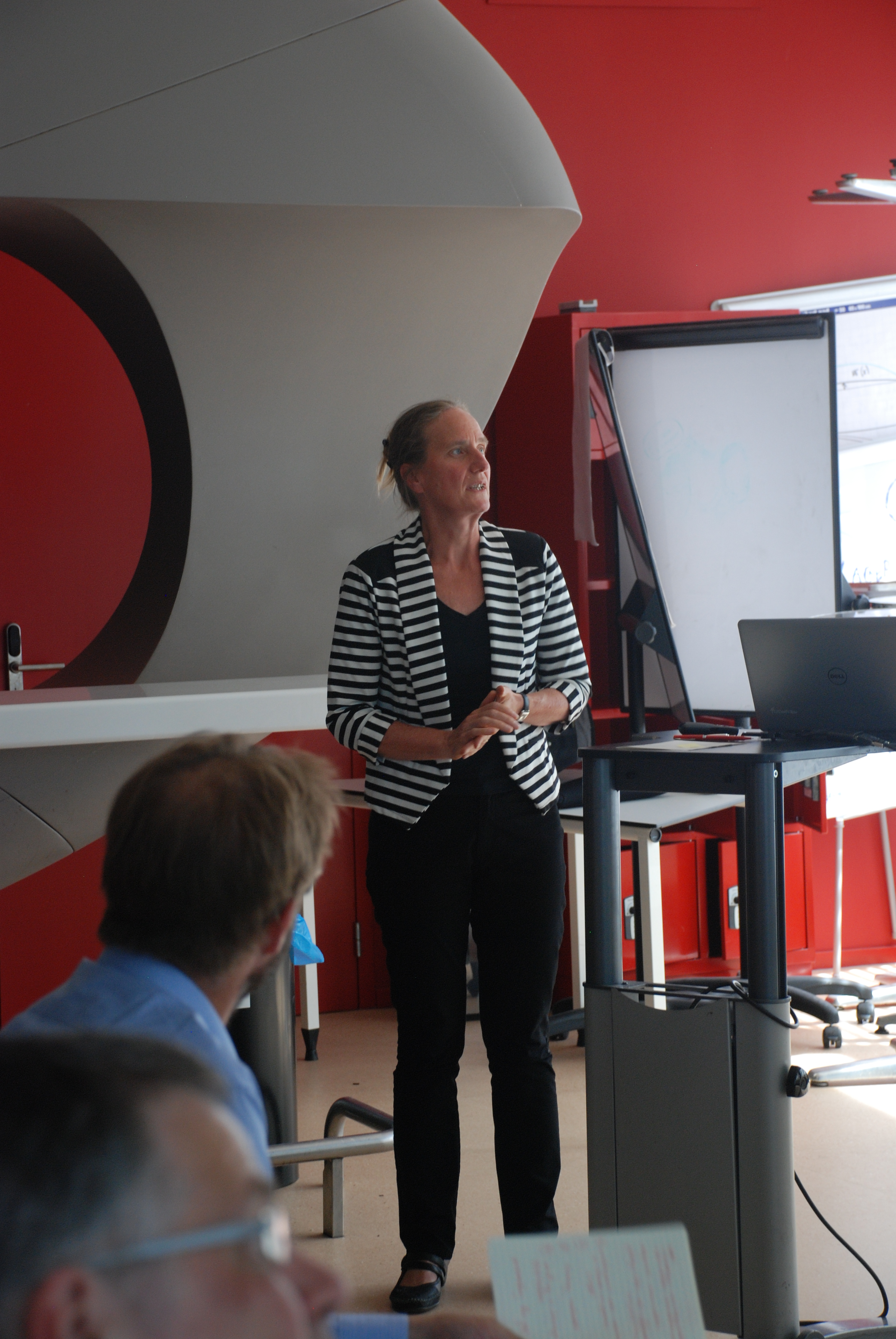 Healthcare design
The last speaker of the day, Prof. Richard Goossens, emphasized the importance of unlocking people: the influencing of behaviour through design. He gave the (non-medical) example of a lamppost with a sign saying 'don't touch', which resulted in a large number of people touching the lamp post anyway, giving them a (light) electrical shock. This to explain that design does definitely matter.
Innovation in the healthcare sector thus very much is the result of interaction between humans and technology.
The presentations by this panel of experts from academics and the field gave a very good introduction into the importance of context, value sensitive design and the human factor in global healthcare.
From the perspective of the Centre for Frugal Innovation (CFIA) a number of interesting topics were touched upon that are also very relevant in the Frugal Innovation debate. Herein 'value sensitive design' and an eye for local context and demand is also very important. Today's symposium made very clear that simple, frugal solutions often are the way to go in spreading quality medicine to the 2 billion people that currently not have access to basic surgery.
Contact persons for Design for Global Health at the Faculty of Industrial Design Engineering and LDE CFIA:
Ana Laura Santos - A.L.RodriguesSantos@tudelft.nl
J.C. Diehl - j.c.diehl@tudelft.nl